Experience the joys of suburbia in a cosmopolitan setting at The Ravines of Bedford South. Where nature is at your back door, with all the conveniences of an urban address.
from $299,900
Close proximity to shopping, health care facilities, restaurants, and, of course, the beautiful lakefront of Russell Lake itself, all at Russell Lake West in Dartmouth.
from $397,900
Masterfully planned, from blueprint to occupancy.
Designed for Comfort
Our modern design and advanced space planning truly demonstrate how vision and innovation can be transformed into class and elegance.
---
Leading Technology
Cresco implements the latest smart technology and energy efficiency programs using innovative materials, creating a harmonious, sustainable lifestyle.
---
Craftsmanship that Lasts
Our finished product is a signature of craftsmanship that continues an unmatched tradition of distinction and quality.
From dirt to doorstep, we're here.
We commit to doing everything in our power to create a stress-free process for the ultimate Cresco experience. From choosing your selections, moving in, and throughout the warranty period, we will be there for you every step of the way.
"Since purchasing our bungalow townhome from Cresco, we have been very impressed with the attentiveness and professionalism of Cresco's staff."

Cindy & Bernard,

The Ravines of Bedford South, Bungalow Townhome
"I had been looking for a new home but was unsatisfied with the layouts of what was available.  I looked into new construction with Cresco because of all the positive things I had heard about how easy they were to work with."

Janet,

Russell Lake West, Dartmouth, Bungalow
Posted by Cresco
On September 15, 2016
As the proud builder of the Fall 2016 QEII Lottery Home, we welcome you to 41 Weybridge Lane in The Parks of...

Thursday, September 29th, 2016 at 5:46am
Exciting projects on the horizon! #Cresco #TheRavines #ParksofWestBedford https://t.co/waeq9v1A3M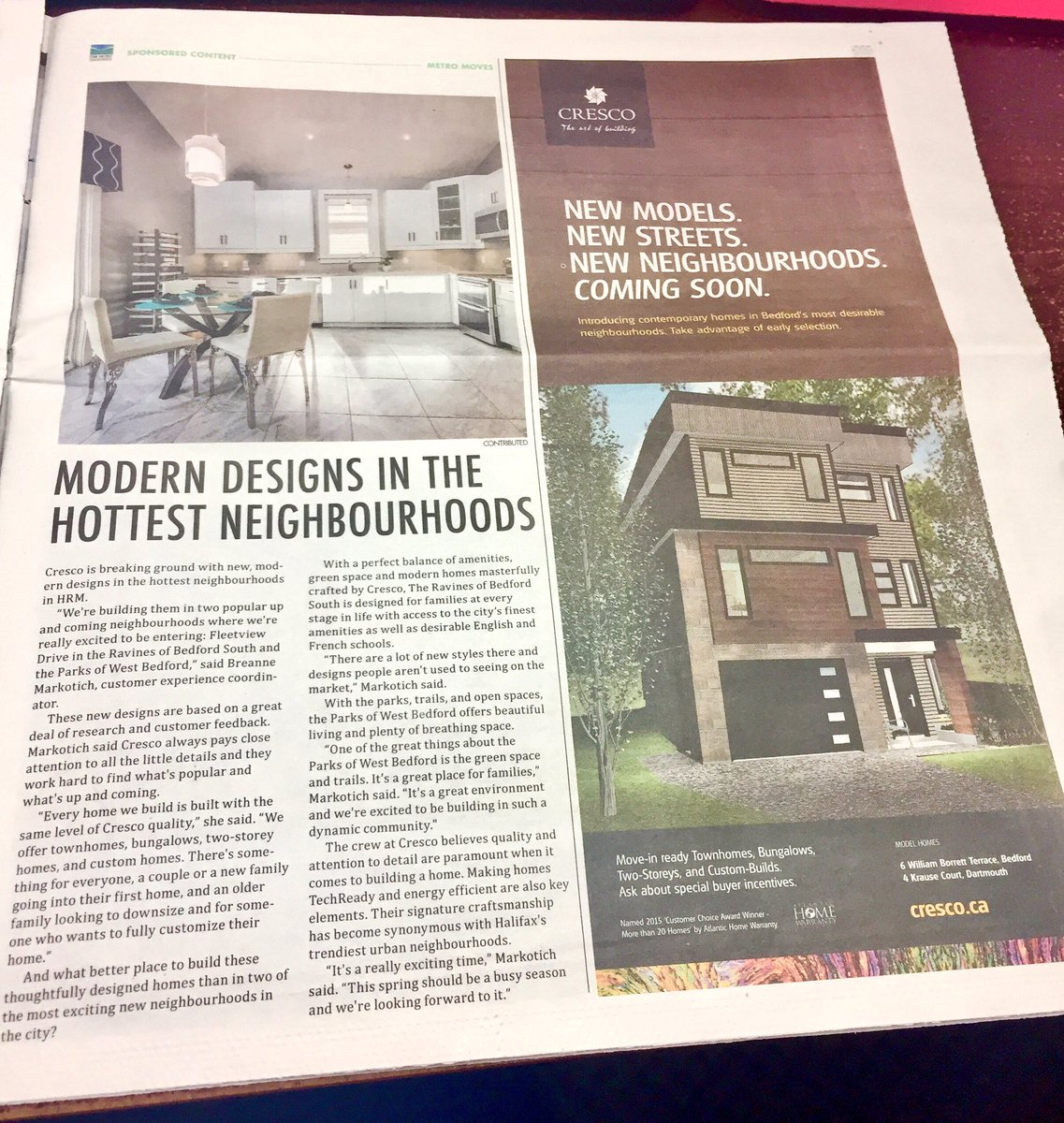 Wednesday, September 28th, 2016 at 12:28am
Armenia Drive is filling out nicely! #Bungalows #TwoStoreys #TheRavines #Contemporary #Cresco https://t.co/IvseTqrUbK